[Guide] Spiritual Beast Ver 2.0
January 11, 2017
Today we will give you a guide regarding Spiritual Beast on Anime Ninja. Why do you need to use Spiritual Beast? Because Spiritual Beasts have many benefits if you use them properly, let's go through them one by one :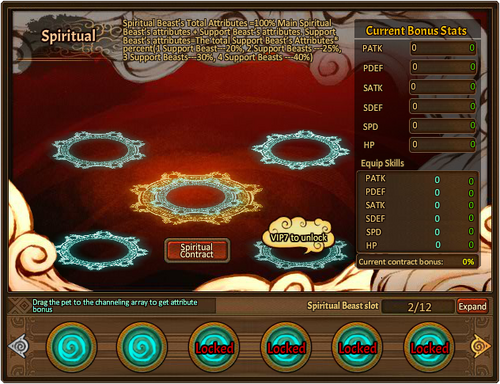 First, our beloved cute allies have their very own positions in the channeling array from where they channel their powers to boost your ninja team. Spiritual formation consists of 5 positions. One position for the host pet and 4 for the support pets. However, the 4th slot for support requires VIP 7 to unlock.
Bonus Stats
Bonus stats are the stats pets channels to every ninja in the formation. Bonus stats are displayed on the right corner of the tab. Bonus stats are the total stats of the host pet (100%) + the support pet(s)'s stats (~%). Stats boosted are: P.Atk, P.Def, S.Atk, S.Def, Speed, and HP.
 Support pets stats are computed in percentage depending on the number of pets in the channeling array. To wit:
1 support pet = 20% bonus stats
2 support pets = 25% bonus stats
3 support pets = 30% bonus stats
4 support pets = 40% bonus stats
Spiritual Beast tab displays the pet's picture and profile. Bonus stats are also displayed in the right side. Pet's name is also displayed together with the pet's position in the channeling array. There are three important buttons here:
 Follow button displays on and off the pet of your choosing. When on, the egg or the pet is displayed and is visible floating beside the Main character's avatar on the village interface. Bonus stat will not be affected by this.
Abandon button discards the selected pet and is gone forever. Pets on raise mode (training mode) cannot be discarded.
Profile button displays the pet's description which contains various information about the pet. This is much like a flavor text.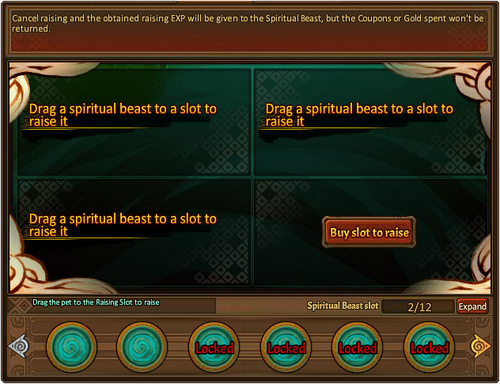 Raise Mode or training mode is the only source of EXP for pets to level up. Raising certain pet to designated level enables the pet to evolve into its next form.
Below are the Raise Mode types and the EXP each of it provides.
Choosing any of the 3 types of Raise Mode will turn off the other types. Players will have up to 4 breed slots, 3 of which is given free, the 4th slot requires 200 gold or coupons to unlock.
When Raise Mode is cancelled anytime, the pet will obtain the current EXP obtained during the consumed hours, but the silver or coupon/gold used for the training will not be refunded.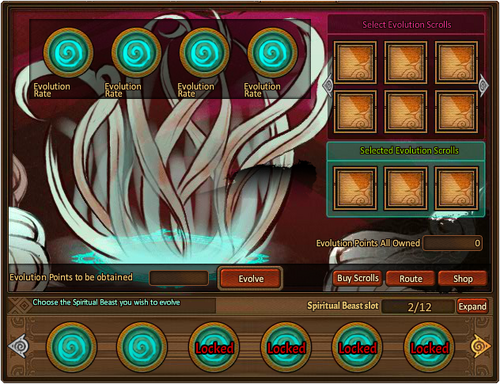 Evolution is next step for our pets. Once they reach max level, they can evolve into new pet. This pet will be far more powerful than your previous one
Evolution, though, is random with higher chances of evolving for low grade pets.
Evolve tab consists of the following sections: Evolution probability slots, Evolution Scroll slots, and other Command Buttons.
Evolution probability slots
Your pets will evolve into another form randomly. In here, the forms they could evolve to are displayed. The probability of evolving into certain forms are also displayed. Below is the display of the pet to be evolved and the Evolve command button.
Evolution points are also showed. This refers to the point gained by the player when evolving pets and also by using Evolution scrolls. Evolution points are then exchanged to get a new egg, or if the player has enough, buy high rank pets.
Evolution Scroll slots
Displayed in here are all available evolution scrolls in the player's bag. Evolution scrolls are used to either increase or decrease evolution probability of pets.
 = Opens the Mall interface where scrolls of different rank are displayed.
 = Shows the evolution tree of spiritual beasts.
 = players can purchase eggs and evolved pets using required evolution points.
Devour allows you to transfer EXP from 1 spiritual beast to another.
There are few things to remember before devouring though:
You can only devour spiritual beast if the spiritual beast is not in spiritual formation & not in raising.
Devoured Pet (the one one you place on the RIGHT side) will be GONE!!

 

So think carefully before you do it

Devour will transfer certain amount of EXP and Practice Summoning Status.
Devour can be done using silvers or gold. The difference is, when paid using gold it will transfer more EXP and Practice Summoning Status than when using silvers.
This feature will increase your Spiritual Beast Power, beside RAISE, EVOLVE or even DEVOUR ( as you know DEVOUR will merge Experience for one Spiritual Beast to another )
There is 5 Raise Method that you can use
Using Silver Training ( It will increase silver requirement you need when your spiritual beast training exp increase )
Using 20 Gold to have an Advance Method
Using 200 Gold to have a Perfect Method
Using 10 Gold to have an Enchant Method
Using 50 Gold to have a Supreme Method
May be you will find, there is no different using different method. Yup, that's right the Point that you get for Spirit Beast will be the same, no matter which method you use. The difference will show once your stats pass the limit zone.
Once a method reach the limit, it will start showing + and – in certain attribute instead of + only.
If this happen, you can choose to use other method with more limit zone to keep it getting + only.
This is Example status that you will get if Complete Training ( In This Case AODA ).
You will find bonus stat in the Equip Skill Windows on Spiritual Formation.
---
So increase your Train your Spiritual Beast to more stronger, it will help you to be the best on the Anime Ninja World